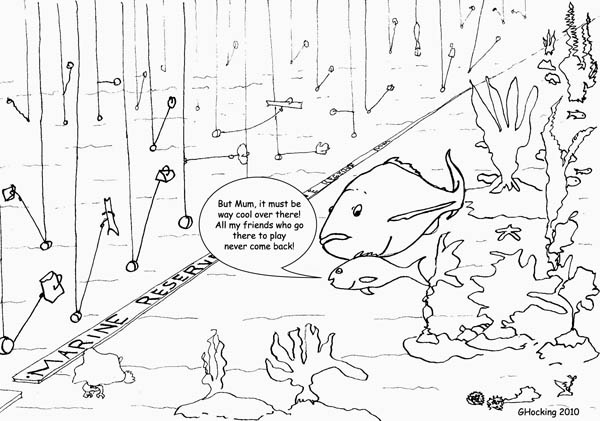 The need to manage time in a project like this is great. You only have so much to get your chosen goal line. Thinking about this and making a plan is essential whether your goal is a marine reserve application, or preparing a proposal for marine protection to become part of a regional forum process. Always remember that support for your proposal is something you will be working hard to build over time. Once you gain credibility, support, enthusiasm and trust in your community it is important to keep it going. Delays can kill positive momentum, so planning is vital.
There is no prescribed length of time for a marine reserve campaign, and with good reason. The length of past campaigns has varied wildly, from just under two years for the Department of Conservation's relatively uncontested application at the Auckland Islands to the decade needed by the first secondary school applicants in Whangarei.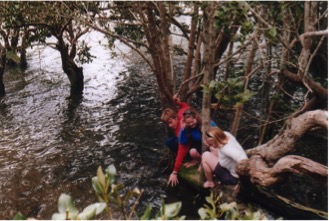 Two of the Whangarei High School students who got it right to create the Whangarei Harbor Marine ReserveIt is important to work towards creating a timeline for your project with clearly described milestones and identified people who will be responsible for completing tasks. A well planned and followed timeline becomes especially important when you get close to the public notification date, because at that point a whole series of things have to come together and get done to fulfill statutory requirements. The notification period of your application and the month after the closing of submissions are also crucial, with a lot of tasks having to be completed to a strict schedule.
Before attempting to create a timeline for your project you need to become familiar with the various processes and requirements. You also need to gain a good understanding of the local people and organisations you will work with and the resources you can muster within your group.
To gain an understanding of the process we have included two documents in this folder that you should study carefully and use religiously in your early planning.
➢ DoC marine reserve creation flowchart
➢ DoC and MinFish marine reserve creation flowchart
Below is an indicative timeline specifically for a marine reserve campaign, to get you thinking. Historically many groups have taken much longer than two years to create a marine reserve and there are a multitude of reasons for this. It it is possible to be very focused and if each task is carried out well and on time this is a realistic timeline.
Marine Reserve Project Timeline
APRIL Year 1
Interested individuals or organisations get together to discuss marine reserve options for their area, scope out resources and local support, learn about the process
MAY Year 1
Organise a planning meeting of interested people or organisations.
Plan investigations and early informal consultation with stakeholder groups and tangata whenua.
JUNE Year 1
Carry out informal consultation
Hold regular meetings
Work on investigations, surveys and information gathering
SEPTEMBER Year 1
Preparation of draft proposal for public comment (including public questionnaire)
JANUARY Year 2
Draft proposal completed and distributed for public comment
Continue regular meetings
Carry out consultation and information meetings, public and targeted, with stakeholders and tangata whenua
MARCH Year 2
Submissions/questionnaire responses close on draft proposal
Continue meetings
APRIL Year 2
Complete analysis of proposal submissions.
Continue investigations and information gathering as required
JUNE Year 2
Prepare formal application document
SEPTEMBER Year 2
Formal application and notice of intention to apply for an order in council sent to Director-General of Conservation
Continue meetings
Marine reserve application notified and distributed end of month (Once Director-General's letter of acknowledgement is received)
OCTOBER – NOVEMBER Year 2
Statutory notification and consultation process on marine reserve application
Analysis of submissions as they are received
DECEMBER Year 2
Submissions close on marine reserve application
Answers to Objections report is prepared and delivered to the Department in 1 month from submissions closing date
Your part is complete, the Department of Conservation now takes over the reminder of the statutory processes.